Azure Migration: Proof of Concept
Making your migration stresses a thing of the past...

Start your secure Azure migration.
For companies new to cloud, knowing where and how to start your migration can prove difficult. Even if you already have experience with some cloud offerings, you may not have considered the benefits of Microsoft Azure for your estate.

DSP-Explorer have designed a Proof of Concept package that will introduce you to the benefits of Azure without dropping you in the deep end. This package will enable you to kickstart your move to the Cloud by enhancing your knowledge, removing risk and helping you to navigate your first Microsoft Azure migration with ease.
With our support, your estate can grow and benefit from the measurable benefits of Cloud adoption, including lower costs, greater agility, and better resource utilisation.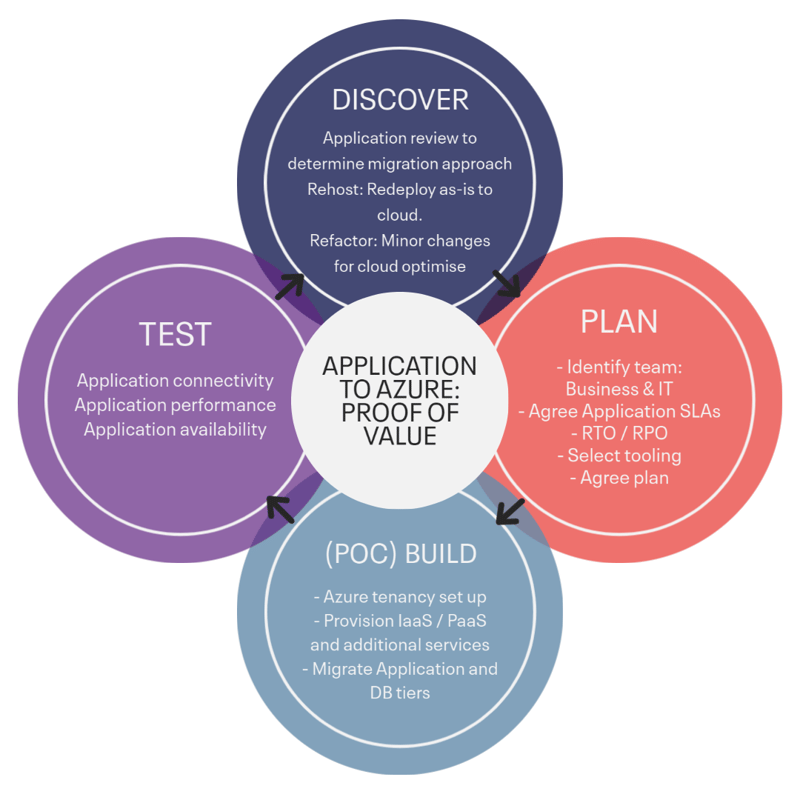 Microsoft Azure: Migration Approach
Step 1: Discover
Meet the Applications:
The 5 Rs
Step 2: Plan
Resource and Strategy Management
Step 3: Proof of Concept
Initial Migration Of Workloads
Step 4: Test & Migration
Test, Initiate and Manage your
Migration to Azure
DSP-Explorer will work with you to understand your application and database requirements and dependencies in order to assess the benefits that could be realised from a move to Azure to help build an initial business case.
Once we understand your application requirements we can begin to determine which migration method will best suit your business. This is an important decision, as there are multiple options available depending on your environment and preferences. There are 5 key methods of approaching a cloud migration:
Rehost

- Redeploy as-is to cloud.

Refactor

- Minimally later to take better advantage of the cloud.

Rearchitect

- Materially alter/decompose Data to services.

Rebuild

- New code written with cloud-native approach.

Replace

- Only data is copied to the cloud.
It is also vital to consider the long-term benefits of any movement to the cloud as part of your evaluation.
Comprehensively planning for your migration includes designing its architecture and accommodating all the relevant building blocks and service segmentation.
This stage also incorporates tasks such as:
Building a migration team

Identifying the resources required for a successful migration

Selecting the right tools for a best-practice solution




Our plan will highlight the tools we'll use to automate the movement and transparently explain the initiated cloud inventory, including management aspects. You can be sure that your performance, security, resource usage, and costs are in safe hands, and see our plan every step of the way.
By testing a workload through a Proof of Concept you will be able to determine the capacity required for a major resource allocation to cloud. This will enable you to compare how an application performs running in Azure versus on-premises. Network performance and latency should also be carefully considered here.
Our Azure offering includes:
Azure tenancy setup

Agreed migration of initial workloads

The building of any core IT infrastructure services required to support your workloads - ask one of our expert team for more details of what this can contain.
The final part of this stage should be a documented plan that includes technical details such as the compute capacity and storage; the required virtual network policies; a considered evaluation of the current demand of your on-premises services, accounting for potential growth; and an initial cost evaluation.
Once the Proof of Concept has been amended to fully meet your requirements, and you are confident that Azure is the right fit for your business, DSP-Explorer will move forward to the migration process. We will:
Plan your deployment & draw up a Statement of Work (SoW)

Initiate your deployment into Azure

Conclude the deployment of your workloads into cloud
Once steps 1 and 2 have been completed, the initiation of the Azure Development stage becomes substantially easier. So when you're ready to step into your migration, so are we!
As a Microsoft Cloud Solution Provider (CSP), our Azure Cloud Implementation Specialists and certified Microsoft Azure engineers will enable the best Cloud migration and management services to suit the needs of your business. For more information on how we have achieved successful migrations for our clients, why not check out our Case Studies.