Oracle EBS Migration to OCI
Move and Improve E-Business Suite to Oracle Cloud

Oracle EBS Migration to OCI
Many of our customers have invested years into their E-Business Suite environment, done deep customisation's and integrations with other apps and components to suit their specific organisation's needs. Many have built it into their system of record, enabling them to run your day to day operations as effectively as possible. Without it, they can't properly manage HR, track their receivables, manage their inventory, nor pay their vendors. In essence, they can't run your business without it.
On-premises deployments of E-Business Suite poses challenges, which is why many of our customers are migrating their EBS to Oracle Cloud.
First of all, managing facilities and hardware is not strategic. It can be difficult to scale quickly and capacity planning can become burdensome. Furthermore, hardware refreshes are costly, risky and often deferred, meaning a lot of companies are running on dated hardware which is an additional risk.

Secondly, keeping your E-Business Suite application on-premise brings challenges with keeping it updated. Maintaining OS and database patches, accommodating new feature changes and integrations rapidly is very tricky. Additionally, there is a lack of ability to deploy new environments quickly, DSP-Explorer can migrate you in weeks and you'll be able to deploy in hours!
The Oracle Cloud Solution
Migrate your EBS to OCI, keeping the E-Business Suite you know, own, have customised and integrated - all while taking advantage of the operational and cost benefits of Oracle Cloud.

Firstly, reduce costs by leaving your data center, consolidating your infrastructure and only paying for what you use. Secondly, you'll also reduce risk with more automation at the OCI & EBS level, limiting the amount of operational issues. Finally, you'll improve agility by being able to close EBS systems in minutes, add capacity with fast provisioning and set up / tear down environments quickly.

By migrating your E-Business Suite to Oracle Cloud, you'll achieve up to 46% lower TCO vs on-premise, up to 63% lower TCO than AWS and 20-30% improved performance!

Speak to a DSP-Explorer Licensing expert today to discover the savings you can make on your EBS licensing costs when migrating to Oracle Cloud.
Benefits of Migrating
E-Business Suite

to Oracle Cloud
Up-to 46% lower TCO vs On-Prem

Up-to 63% lower TCO vs AWS

20-30% improved performance

Superior performance backed by SLAs

Unique capabilities enhance infrastructure availability, security, and control

Fast, Secure, Seamless Migration with DSP-Explorer
Start your journey to cloud
Complete the form below and an Oracle Account Director will be in touch to discuss the migration of your EBS further.
On-Demand E-Business Suite Migration Webinar
If you'd like to discuss your EBS migration with a DSP-Explorer expert who has the experience and knowledge on what makes a smooth migration, please get in touch using the form below. Or if you're considering any other Oracle Application Cloud Migrations, such as Oracle Hyperion Migration, get in touch today to discuss them further.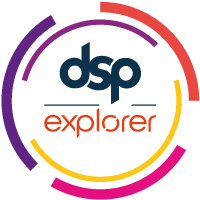 Contact us Today
Complete the form below and speak to an Oracle Account Director.