Rapidly Provision and Virtualise Oracle Databases in Minutes Using Delphix

Accelerate projects, reduce costs, and mitigate risk
In an age of Agile Development and Data Operations, businesses are facing escalating costs and extended timelines to release new applications and upgrades due to the complexity of maintaining nonproduction data.
DSP, in partnership with Delphix, are supporting customers to rapidly provision and deploy data from Oracle databases by virtualising, securing, and managing data at scale, using the Delphix Dynamic Data Platform.
Using the Delphix Dynamic Data Platform, organisations can, within minutes, virtualise databases and quickly execute data refreshes using self-service tools and automation.
Developers, testers or even end users can then access the data they need, version controlled and streamlined into their current workflow, to speed up projects. Delphix solves the problem of bottlenecks from legacy processes and lack of governance and security controls, such as data masking.
.
Reduce storage requirements
Instead of making full copies of data, Delphix virtualises data by taking snapshots and providing self-serving functionality to make and manage high performance read/write clones with minimum storage footprint.
Version data like code
Delphix enables users to refresh data to match the latest state of production and remove inconsistencies with "stale" test data. Synchronise all data copies in a given data environment to the exact same point in time to facilitate integration testing. Move data to and from other virtual data environments to drive collaboration.
Transforming how users access data
Offering the only data operations platform that combines data compliance with on demand data delivery, Delphix ensures that sensitive data is secured and that the right data is made available to the right people, when and where they need it.
Reduce data delivery complexity
Access to sophisticated application and database automation tools, enabling data provisioning in minutes, even for the complex and largest datasets. Physical to Virtual replication and Virtual to Physical migrations are all standard features of Delphix.
The Delphix Data Ops platform
The Delphix DataOps Platform allows data to be securely delivered to every stakeholder on-premise, cloud, and hybrid environments at the speed and scale required to enable rapid development and delivery of applications and solutions.
Delphix provides a comprehensive approach to DataOps, enabling companies to easily deliver and secure data, wherever it exists.
Deliver. Provision lightweight, virtualised copies of data in minutes, on demand.
Govern. Comply with regulations including privacy laws such as CCPA and GDPR.
Accelerate. Deploy software releases faster by easily delivering and versioning data across the
development lifecycle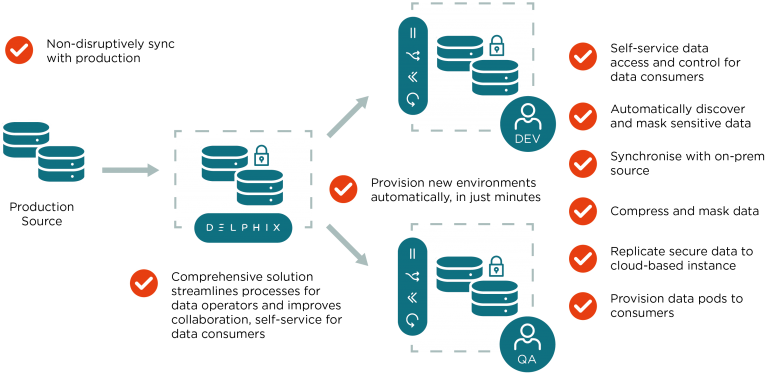 "As Head of Application Development, I needed a solution for easier and more efficient provisioning of test environments. The business was demanding more agility and responsiveness and the only way to achieve that was to empower my teams to refresh data themselves using self-service data pods. This enabled us to accelerate release cycles and practically eliminate data discrepancy issues. There was once too much smog covering our development cycle but Delphix has lifted that."
Head of Application Development for a manufacturing customer

Contact us to discuss your project today