Exadata - Cloud at Customer
Exadata PoC
The only partner in the UK able to offer a free onsite PoC
Exadata is the #1 infrastructure platform to run business critical databases on dedicated hardware running on-premise.

However, that might not be suitable for your organisation as you consider Cloud adoption.
Oracle have recognised this and have made Exadata available on an OPEX model called "Exadata Cloud at Customer" (ExaCC) where you pay a subscription fee for the base infrastructure and only pay for the services that you consume running on that platform.
Fundamentally, ExaCC is a Public Cloud proposition but the data location remains on-premise

ExaCC is a route to reducing (or removing completely!) the cost of hardware and software support costs

Universal Credits (Annual Flex or Monthly Flex) is used for billing, just like in Oracle Cloud

ExaCC is the only way to get Autonomous database features on-premise

Oracle are responsible for the infrastructure patching

You remain (or via a Partner) responsible for database patching

ExaCC leverages the same and latest Exadata features as the Exadata X8M
Key benefits of Exadata Cloud at Customer
Lower cost of acquisition, running costs and support costs.
Workload portability between on-premise and Cloud
Cloud Adjacent Architecture reduces latency between environments
Managed as part of Oracle Cloud for consistency and resilience
Migration Services

Monthly reporting

Database configuration

Performance monitoring

ExaCC design & project planning

OCI management & orchestration

Database & OCI Managed Services

Sizing and proof of concept services
Key take away
ExaCC is built on the same Exadata architecture as the on-premise variant – it's proven and it's the lowest cost it's ever been.
ExaCC brings all the benefits of Cloud economics to your data centre – from elastic scaling to hourly pay-per-use subscriptions
ExaCC is a vehicle to cancel Oracle support and replace with new Cloud credits and an infrastructure subscription service
OCI connectivity Architecture Overview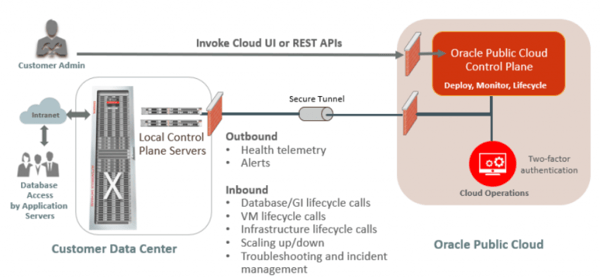 See at first-hand how Exadata performs within your business...
with a free onsite PoC
We understand that all customers are different and each Oracle workload will have its own unique set of nuances, regardless of its size. This means it's almost impossible to know what scale Exadata can improve performance.
The key is to try it in your datacentre with your applications, which to date has been extremely difficult and costly to achieve for customers – both logistically and technically.
To remedy this, our own Exadata is available for onsite Proof of Concepts with zero associated costs.
Request your free PoC today