Powerful Reports
Your Health Check results will be presented in two powerful reports: one for the consumer, one for the technician.
Consumer Level
DSP have developed a two-stage report that provides a brief, readable overview for non-technical project managers, as well as a comprehensive breakdown of each individual database and our suggestions for optimising them in technical terms.
Not all of your team will be technical, but understanding how your estate can be made more manageable, usable, and secure could benefit the whole team. When you can be transparent about why an upgrade of your system is necessary, finding the budget and manpower necessary to make it happen becomes much simpler.
With this in mind, the first part of the report generated by a DSP Health Check shows you an index score out of 100, which is then divided into separate scores for Performance, Recovery, Implementation and Manageability.
This introductory table below presents a clear and easily comparable data set that can be treated as a jumping-off point for working out which of these areas is costing you the most, and where your budget for improvement should be directed.

Technical Reporting
After the initial overview of the strength of your estate the DSP Health Check Report breaks down the four above areas into more detail, creating a summary for each individual database which includes the Pass / Fail award checklist shown below and a host of Best Practice pointers.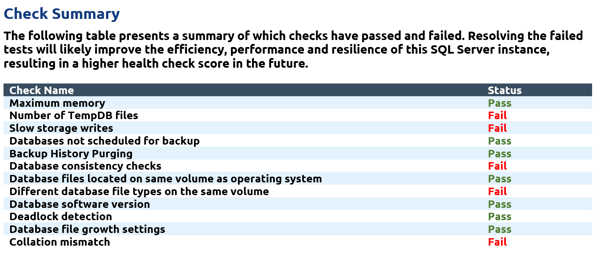 The report will also refer you to relevant articles to further explain any recommended changes in more detail.
In short, DSP Health Checks do the leg work and more - and not only that, you can benchmark your results to see how your estate ranks against the average Health Check user.