Powerful Reports for your Customers
Your health check results will be presented to your end users in a powerful report designed for both technical and non-technical minds.
Consumer Level
DSP-Explorer have created a powerful report which adds value to both technical and commercial audiences. When working with ISVs we are able to co-brand this report for your customer.
Not everyone is technical, which is why part 1 of our report is aimed at a non-technical audience. We simply score your customers database out of 100, across 4 different sections: performance, recovery, implementation and manageability. This gives an easy to understand overview of where any problems may lay and where focus needs to be placed.

Technical Reporting
Following on from the scored overview above, the technical report digs down into further database analysis, looking at which checks have passed and failed.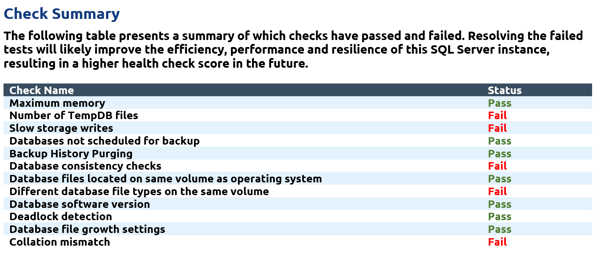 The report will also refer you to relevant articles to further explain any recommended changes in more detail.