Oracle Hyperion Migration
Move and Improve Hyperion to Oracle Cloud

Oracle
Hyperion

Migration
For many years now you have been addressing your statutory, management, regulatory and operational reporting requirements using Hyperion EPM. You continue to reap the benefits of a mature product portfolio that has consistently ranked in the top right Gartner Magic Quadrant for years. You've invested years into your app environment, done deep customisations and integrations with other apps and components to suit your organisation's needs. In essence, you can't run your business without it.

Oracle has recognised this by extending Premier Support for the Hyperion EPM suite to the end of 2031 at least.

Running Hyperion EPM in on-premise environments can make ongoing maintenance challenging, however, migrating to Oracle Cloud has multiple benefits which more and more companies are starting to realise.
If you're currently running Hyperion EPM on-premises, maintaining your application can be challenging in many ways...
In terms of hardware:
Managing facilities and hardware is not strategic

It's difficult to scale quickly and constant capacity planning is burdensome

Hardware refreshes are costly, risky and often deferred which weakens your security posture
Keeping your Hyperion application updated involves:
Maintaining OS and database patches

Accommodating new feature changes and integrations rapidly

The need to deploy new applications and environments quickly
The Oracle Cloud
Solution
Migrate your current Hyperion EPM deployment to Oracle Cloud Infrastructure (OCI) and gain access to better elasticity to support peak seasons, agility to add new capabilities, streamlined infrastructure management, and lower total cost of ownership (TCO). In addition, only OCI offers consistent high performance at guaranteed service levels.
Achieve 39% lower TCO than on-premise and 17% lower TCO than AWS. As well up to 10x faster processing speed and no single point of failure.
At DSP-Explorer, we have been in business for over 25 years and our experienced team of award-winning certified DBAs have the expertise and experience to ensure you'll have a smooth migration to OCI. With DSP-Explorer you can migrate in weeks.
Main Benefits of Migrating Hyperion to Oracle Cloud
Up-to 39% lower TCO vs On-Prem

Up-to 17% lower TCO vs AWS

Up to 10x fast processing speed

Superior performance backed by SLAs

Unique capabilities enhance infrastructure availability, security, and control. No single point of failure

Fast, Secure, Seamless Migration with DSP-Explorer
Start your journey to cloud!
Complete the form below and an Oracle Account Director will be in touch shortly.
Hyperion Migration Global
Case Study
Discover how Alliance Data are saving over $1m a year by migrating their apps to Oracle Cloud, and also enjoying the benefits of enhanced performance and increased security.
If you'd like to discover more about migrating Hyperion to OCI, contact an experienced DSP-Explorer Account Director today. If you are looking to migrate any other applications to Oracle Cloud, make sure to refer to our Oracle Application Cloud Migration page for further information.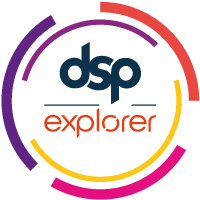 Contact us Today
Complete the form below and speak to an Oracle Account Director.