PeopleSoft to Oracle Cloud Migration
Lift & Shift | Move & Improve
With the UK's No.1 Oracle Partner

PeopleSoft to Oracle Cloud Migration
PeopleSoft has become one of the most customised, relied upon mission critical applications that Oracle has ever delivered. The likelihood is that you've integrated it with other apps, customised it to meet your specific needs and it has now become the heartbeat of your businesses operations.
If you're continuing to invest in your PeopleSoft application - good news - Oracle are as well, as they have committed to premier support until 'at least' 2030. However, as you continue to invest, you must consider where best to host your application, Oracle Cloud Infrastructure could be the answer.
At DSP-Explorer, we have supported numerous businesses migrate their PeopleSoft application to Oracle Cloud, as we have a certified team of DBAs who have the tried and tested experience in application migrations, resulting in reduced costs and enhanced performance.
Managing hardware has it's challenges. Firstly, it's hard to scale on-demand because it's near impossible to calculate a plan for capacity, consequently, you're likely to over-provision to make ensure you aren't caught short during peaks. Secondly, it's expensive and time consuming to upgrade your hardware, which also comes with a risk that you're running your application on dated hardware.
Keeping the application updated is another challenge with hosting it on-premise. Maintaining OS and patching is a difficult and lengthy task... time which could be better spent! Furthermore, spinning up new dev, QA, and production environments at the speed modern day businesses requires is impossible on-premise.
The
Oracle Cloud

Solution
Oracle Cloud can provide you with cost savings, enhanced performance and operational improvements, while keeping the same customised, integrated PeopleSoft you have always used.
TCO (Total Cost Ownership) can be up to 43% lower when migrated to Oracle Cloud, rather than on-premise, and up to 63% cheaper than AWS. Customers have also reported more than double the reporting speed during month end, quarter-end. Oracle Cloud is also the only cloud to backup performance of core infrastructure services with service level guarantees!
With DSP-Explorer's vast knowledge and experience of Cloud migrations, you'll be able to migrate in weeks versus months and deploy in hours versus days, meaning you'll be reaping the benefits of enhanced performance and cheaper costs sooner.
Main
Benefits

of Migrating PeopleSoft to Oracle Cloud
Up-to 43% lower TCO vs on-premise

Up-to 63% lower TCO vs AWS

Superior performance backed by SLAs

Unique capabilities enhance infrastructure availability, security, and control

Fast, secure, seamless migration with DSP-Explorer

2-10x faster reporting time
Start your PeopleSoft Migration Today!
Complete the form below and an Oracle Account Director will be in touch to discuss a potential migration further.
Watch this Oracle global case study to discover how St Paul Public Schools saved 75% in infrastructure costs while having almost zero downtime by migrating PeopleSoft to OCI.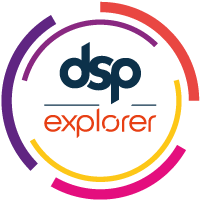 Contact us Today
Interested in finding out more about migrating PeopleSoft to OCI? Complete the form below and an Oracle Account Director will be in touch ASAP.